"Eve Fleishman brings dreamy folk-tinged jazz…"
"Her voice floats innocent and pristine on a melancholic sea, as if we are sailing from Nashville to San Francisco with her (a move she made a few years ago), picking up flecks of Americana along the way…" – SF Critic
"This is pretty spectacular…such a beautiful collaboration." – Viv Nesbitt, Art of the Song Radio
"So different and a total pleasure. You come by this honest – you're a composite of every place you've ever been." – Randy and Helen, In the Music Room radio show

"Recalling the way art had inspired her song about Van Gogh, …Eve's shows are part storytelling, part concert." – Kami Rice, Nashville Arts Magazine
"Beautiful voice and great live show. I love this music!" – Chris Jordan, WRFN Nashville
"A perfect performance." – Jan Schmidt, The Laurinburg Exchange
"One of the best concerts we've had." – Keith Cochrane, SJC Jazz Fest
Eve Fleishman serves up an "old soul" sound, weaving together elements of smoky jazz, motowny pop, showtunes and even a dab of country folk to create a most unique listening experience. "I like a little bit of everything," admits Fleishman. Since her days as a student at Berklee College of Music in Boston, Eve has honed her craft as a multi-faceted singer and songwriter.
Eve spent many years in Nashville, releasing four CDs in rapid succession: a collection of jazz standards; two albums of original kids' music with her duo, Eve and Mare; and her solo album, Peace or Drama. Eve's music has been played on radio stations world-wide (including XM) and she has appeared live on both TV and radio, including NPR, Mitch Albom Show and Art of the Song. She has graced the stage of renowned venues such as Eddie's Attic (Atlanta), Cain's Ballroom (Tulsa), The Salon (Philadelphia), Ryman Auditorium (Nashville), The Mint (Los Angeles) and Cairo Jazz Club (Egypt).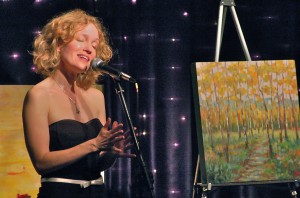 Eve embarked on a national tour of her highly-acclaimed project, Peace or Drama, A Journey Through Music and Art, with 13 original songs and paintings. This unique experiment of "art inspires art" received national attention and raised thousands of dollars for PeaceTones charity.
Now calling San Francisco home, Eve has garnered praise for her new Atmospheric Epic album, featuring songs about that sparkling, romantic city by the bay. She continues to perform for audiences both nationally and internationally. In addition to her performances, Eve leads songwriting workshops and teaches yoga classes for singers/musicians and the general public.
Click on images for articles and radio interviews with Eve: